iCED recently completed the 8th International Training Programme
18.12.2020
International Centre for Environment Audit & Sustainable Development (iCED), the Global Training Facility (GTF) of INTOSAI Working Group on Environmental Auditing (WGEA) recently completed the 8th International Training Programme (ITP).
iCED has been conducting the ITPs in face to face mode at its own campus located near Jaipur, India. Under prevailing circumstances due to Covid 19, the eighth ITP was conducted online in two slots of five-day duration from 23rd November to 27th November, 2020 and 07th December to 11th December, 2020 respectively to promote wider participation of SAIs from different time zones. It was first such ITP conducted entirely on the virtual platform and also witnessed highest number of participant's.
Mr. Girish Chandra Murmu, Comptroller and Auditor General of India inaugurated the first slot of ITP on 23rd November, 2020 and the training programme under second slot was inaugurated by Ms. Namita Sekhon, Deputy Comptroller and Auditor General, SAI India on 07th December, 2020.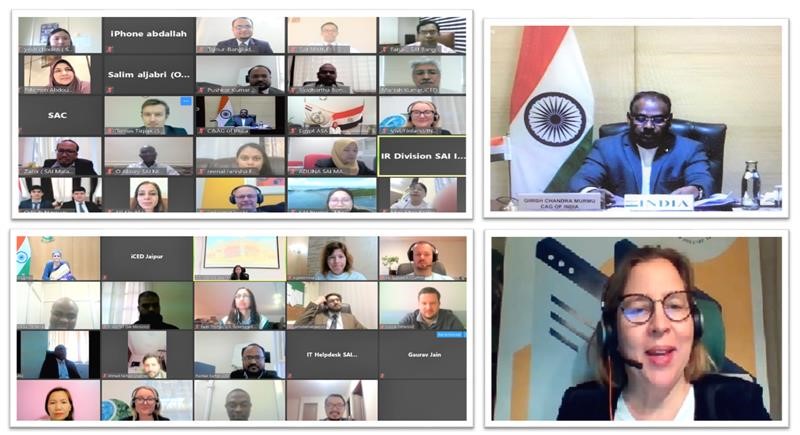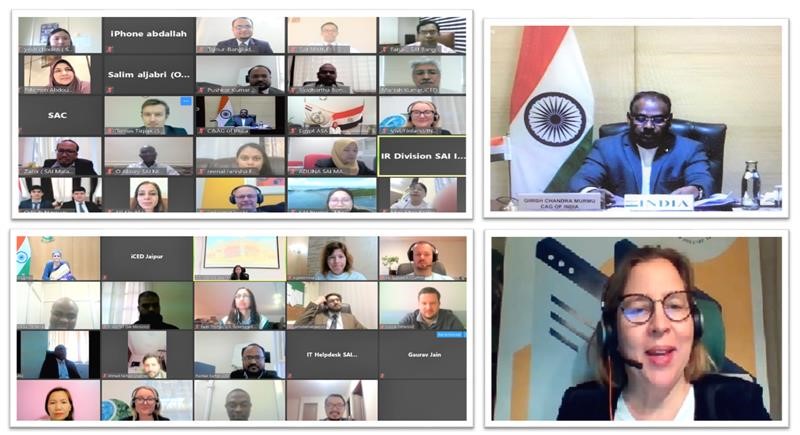 Ms. Tytti Yli-Viikari, Chair of INTOSAI WGEA and Auditor General of NAO, Finland graced the valedictory sessions.
Total 63 participants from 36 SAIs attended this programme, which included 38 participants from 23 SAIs in the first slot and 25 participants from 16 SAIs in the second slot. Sessions on subjects such as Environmental Auditing; Environment Governance; Audit of SDGs; Environmental Impact Assessment; Renewable Energy, Energy Efficiency and its Audit; Biodiversity; Waste and Water Issues were covered by nine experts from five SAIs. Mr. Colm Friel, Mr. Robert Markus and Ms. Oana Dumitrescu (European Court of Auditors), Ms. Sigrid Rajangu (SAI Estonia), Ms. Vivi Niemenmaa (SAI Finland), Mr. Sunil S Dadhe and Mr. Pushkar Kumar (SAI India), Mr. Amri Lewa and Mr. Muhammad Hairil Anwar (SAI Indonesia) delivered the sessions. Although it was a virtual training programme organized online, the response has been quite encouraging.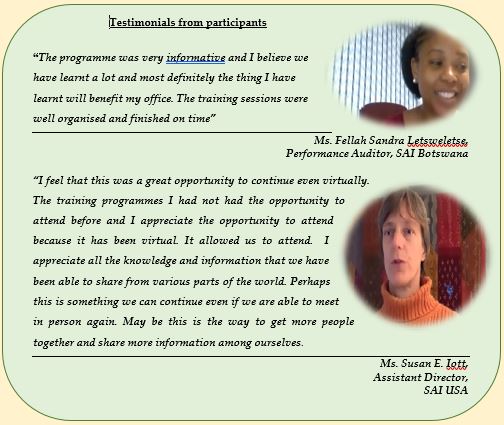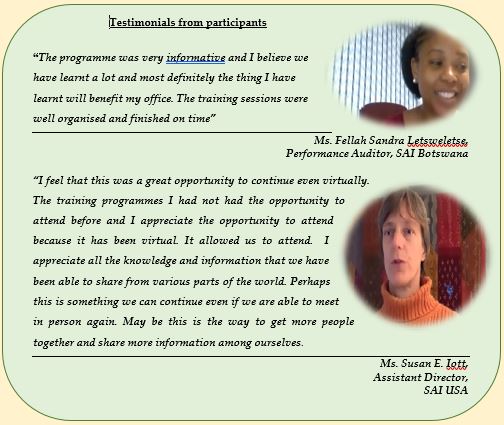 Testimonials from participants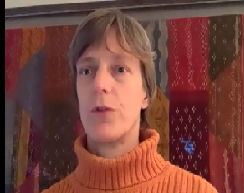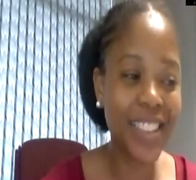 "The programme was very informative and I believe we have learnt a lot and most definitely the thing I have learnt will benefit my office. The training sessions were well organised and finished on time"
Ms. Fellah Sandra Letsweletse,  Performance Auditor, SAI Botswana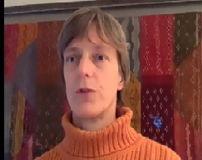 "I feel that this was a great opportunity to continue even virtually. The training programmes I had not had the opportunity to attend before and I appreciate the opportunity to attend because it has been virtual. It allowed us to attend.  I appreciate all the knowledge and information that we have been able to share from various parts of the world. Perhaps this is something we can continue even if we are able to meet in person again. May be this is the way to get more people together and share more information among ourselves.
Ms. Susan E. Iott, Assistant Director, SAI USA