SAIs of Indonesia and Slovenia win the first INTOSAI WGEA Award for best visualisation
22.01.2021
The INTOSAI Working Group on Environmental Auditing handed out first INTOSAI WGEA Award – Inspiration in Environmental Auditing for best visualisation. The topic encourages SAIs around the world to communicate their audit results and present their findings in a clear and engaging manner. The Jury chose to make a joint award nomination: the winners are SAIs of Indonesia and Slovenia.
SAIs around the world have noticed that visualisations are a powerful way to present and communicate audit findings. To raise awareness, the INTOSAI Working Group on Environmental Auditing chose visualisations as the first topic of the new initiative, INTOSAI WGEA Award – Inspiration in environmental auditing.
Twelve SAIs sent their nominations to the competition. The award Jury members adopted criteria where good visualisations have rich content, inviting visualization, sophisticated execution, and a clear message. They should also be self-sufficient and reasonably simple.
"Everyone deserves prizes in this contest" says the Chair of the Jury, Director Peter Welch from the European Court of Auditors. The entries from Japan and from Costa Rica reflected national graphical traditions. Brazil presented an entry with a great use of maps, and Estonia an interesting carrot, which illustrates the power of using visual material.
SAI Netherlands shows us what happens to plastic waste and the sad answer is that usually it is burned. Poland answered in their visualisation a very interesting question: what powers an electric bus? The answer turns out to be very frequently coal in Poland, and very frequently oil in the UK. German electric buses turn from being steam engines to liquid fuel burners about a third of the way through your trip. French buses use nuclear power for most of the journey. "
But as the Jury had to make a choice, they decided to make a joint award.  
"Slovenia and Indonesia each did quite similar audits on water quality and produced summaries that made extensive use of graphics. Slovenia produced this slim brochure, with a wonderful map. Indonesia produced a poster that is simply packed with information" Peter Welch reasons the decision.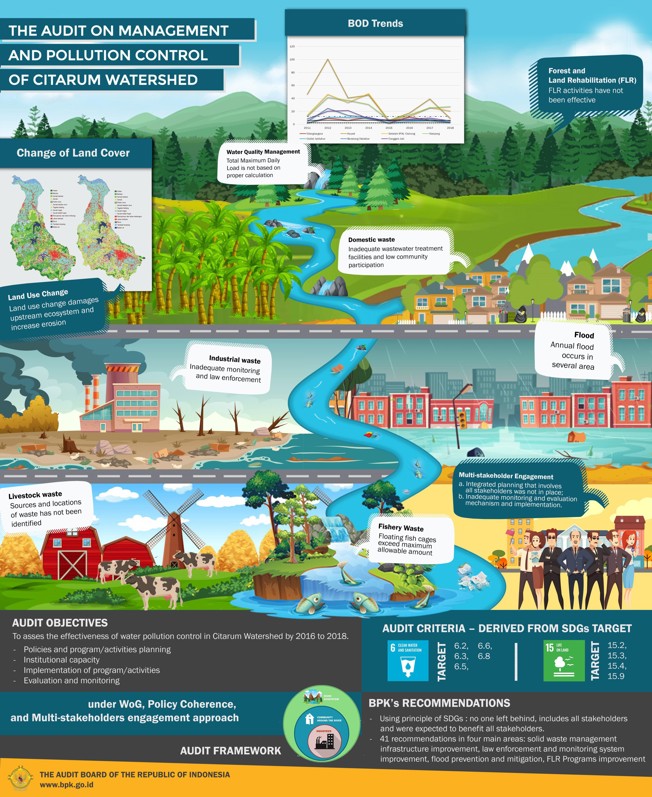 Illustration by SAI Indonesia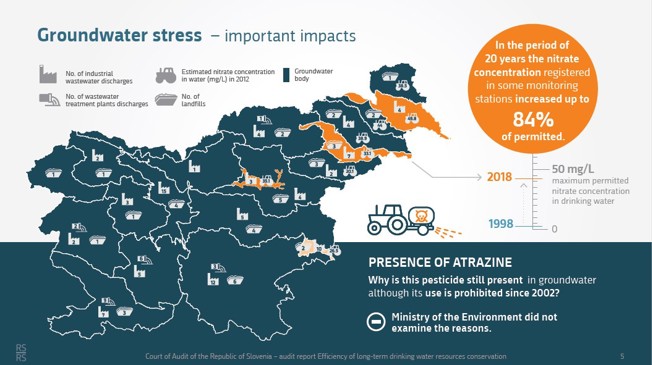 Illustration by SAI Slovenia
SAIs seek expertise in data visualisation and design
In the award submission of Indonesia, the infographic was designed by a team of three auditors. Not all auditors, however, are experts in data visualisation and graphic design. Therefore, SAIs are increasingly hiring professionals in this area. For example, SAI Slovenia has over several years built their own capacity to produce visualisations and other materials in-house.
Especially in cases, where visualisations are outsourced, it is important that visualisers and auditors collaborate closely to ensure that drafting visualisations does not jeopardise the quality control process applied during the audit process.  
SAIs have an important role in providing fact-based information
The idea to dedicate the first INTOSAI WGEA Award to visualisations got its inspiration from the INTOSAI WGEA project on the Visibility of environmental auditing. The project identified recent trends in SAIs' communication. Besides visualisations, the communication in social media has expanded, and SAIs increasingly consider their entire staff as a resource when developing communication.
INTOSAI WGEA recommended that it is useful for SAIs to have a communication strategy, and that it is beneficial to start planning the communication on audits at the early phase of the audit process. The publication "Improving the visibility of SAI's work: Communicating environmental audit results is available here.
The SAIs participating in the Visibility project were invited to join the INTOSAI WGEA Award Jury. Jury participants were Director Peter Welch (European Court of Auditors), Sector Manager Jonathan Keate (SAI New Zealand), Director Pavel Demidov (SAI Russia) and Assistant Director Barbara Patterson (SAI USA).
The INTOSAI WGEA Award was jointly awarded to the following visualisations by SAI Indonesia and SAI Slovenia:
The next INTOSAI WGEA Award will be handed out in the Assembly meeting in 2022. The INTOSAI WGEA Steering Committee will decide the topic of the next Award.


Inquiries: intosaiwgea@vtv.fi