MESSAGE FROM THE CHAIR OF WGEA

Dear Colleagues,
The Covid-19 crisis has challenged conventional ways of working within governments and international networks. The ability to make rapid decisions and develop new operating models has helped during these turbulent times. I am pleased to see how, within the Working Group on Environmental Auditing, our members successfully continue working towards the common goals of our Work Plan.
Supreme Audit Institutions need to be resilient, with the ability to renew themselves and recover from unpredictable challenges. We also must bear in mind that the climate crisis and other future risks need to be addressed in a timely manner. Therefore, it is necessary to assess and further renew our operative processes.
The pandemic has been harshest on the most vulnerable. We risk sliding further away from achieving the Sustainable Development Goals by 2030 as more and more people fall into extreme poverty. The main question for all of us is how we will react to this detrimental development when we have promised to leave no one behind. Since the problem is global, the solution lies in global partnership, in which SAIs have a vital role to play. SAIs can shed light on progress made and bring transparency to discussions about recovery plans and policies.
I am delighted that our INTOSAI WGEA family will have a chance to meet and discuss these changes and challenges virtually during the 20th Assembly from January 19–21, 2021. In addition to discussing the conference theme 'Rethinking for Circular Economy,' we have a wonderful opportunity to discuss what the Working Group on Environmental Auditing and its work packages can bring to the table when planning for a sustainable future.
Tytti Yli-Viikari
Auditor General, SAI Finland
FEATURE STORY
De-carbonizing transport: Sustainable mobility solutions offer a pathway
Franz Drees-Gross, Arturo Ardila-Gomez, Georges Darido, and Sara Sultan
The path to decarbonizing the world's economy runs through sustainable mobility solutions. Decarbonizing transport is one of the most critical challenges of our time.
Avoid-Shift-Improve framework can help decarbonize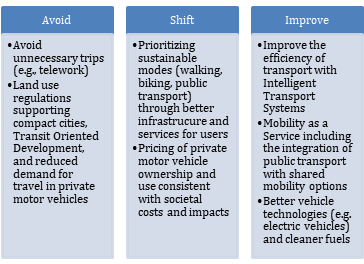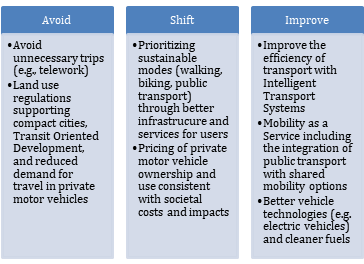 Transport accounts for a quarter of energy-related greenhouse gas emissions—a number that has been rising steadily. As a result, the urgency of decarbonizing transport is growing globally, as the amount of carbon dioxide in the Earth's atmosphere approaches unprecedented levels.
As developing countries continue to urbanize, cities are increasingly important engines of economic development. The challenge for many developing cities is to achieve economic growth that is also equitable, inclusive, and sustainable. Achieving this vision for prosperous and livable cities requires transport policies and systems that deliver sustainable mobility for all through accessibility, efficiency, safety, and appropriate environmental considerations.
Measures to stop the spread of the coronavirus temporarily reduced greenhouse gas emissions and created a new openness to more sustainable ways to connect communities to each other and to jobs and markets. Many people worked from the comfort of their homes, while others adopted sustainable modes such as walking, biking, and public transport.
Decarbonizing transport, therefore, can be achieved while improving mobility and accessibility conditions. The "Avoid-Shift-Improve" framework is useful to understand the relevance of sustainable transport policies and measures to decarbonization.
Avoid
People who can telework show us that avoiding travel is possible, provided broadband access is good or improved.
By working from home, many people have also discovered that they can walk to nearby shopping areas instead of using a car—provided they live in compact areas with diverse land use.
Shift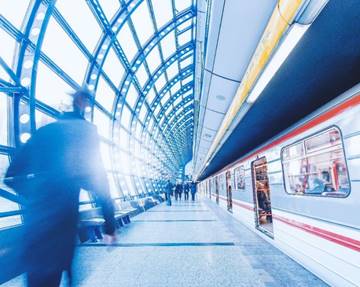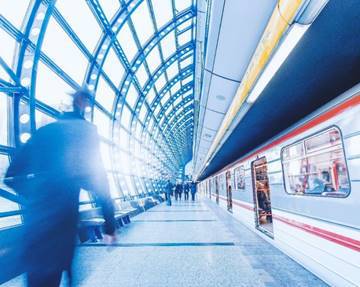 A shift toward more sustainable transport modes and denser land use is also necessary. Land-use regulations frequently lead to unintended consequences: disperse, disconnected, and distant land-use that increases the need for motorized travel while making public transport uneconomical and unattractive. Many residents abandon these housing options because transport costs are too high and connectivity options are limited.
A shift away from highly regulated land use is, therefore, necessary. Examples of inefficient regulations include: maximum floor area ratios or building height, minimum parking requirements, minimum lot size, and prohibiting mixed land uses such as residential and commercial in the same block or even in one property.
These regulations are inefficient because they cap the supply of built space. Capping supply raises prices, particularly if more people want to locate close to a new metro station, for example. The poor are priced out, leading to gentrification.
In this context, a new mass transit line—metro or bus rapid transit— improves mobility and accessibility for its users, who can now access more opportunities in the same travel time. Properties adjacent to alignments become more attractive.
Prices will rise if regulations do not change. Improving land use regulation is therefore necessary. For example, requirements for a minimum number of parking spaces leads to empty spaces when many people use mass transit services. With changes, developers could better understand whether their new building will need parking spaces, and how many. Deregulation will lead to higher economic efficiency in urban development—the right number of parking spaces, which could even be zero.
Developers also understand the value of taller buildings and a higher floor area ratio. Higher density, coupled with good design, and diverse land use are the central elements of compact cities and of Transit Oriented Development.
A public policy shift toward more equitable pricing of private motorized modes consistent with their carbon footprint or impact is also necessary to decarbonize transport.
The lowest impact modes such as walking, biking, and public transport should be prioritized, while the highest impact modes should not be subsidized. Individual car use is indirectly subsidized when fees and tolls do not cover the societal costs they create in terms of excessive congestion, lost productive time, emissions, injuries, and fatalities.
The greater public good is part of the rationale for subsidizing public transport, electric vehicles, and other technological improvements that can reduce emissions. For example, recently Luxembourg was the first country in the world to offer nationwide free public transport for everyone as a major step towards sustainable transport and decarbonization.
On the other hand, free parking on the street or due to inefficient minimum parking requirements is a form of subsidy for car use that should be eliminated. Moreover, cars parked on sidewalks and other valuable public spaces hurt pedestrians, people with strollers and in wheelchairs, and other rightful users.
Improve
Walking, biking, and riding public transport is feasible in compact cities because travel distances are shorter. Compact cities induce a modal shift toward low carbon modes. This impact can be magnified if pricing for car use is improved.
Critics often argue that public transport must improve first in order to implement appropriate pricing for car use, such as a congestion charge. This assertion is half true, because car use is so heavily subsidized that the sustainable transport system falls into an underfinancing trap. For example, the registration fees that car owners pay in most cities barely cover the administrative cost of recording who owns a vehicle. Improved pricing is required in all cases.
The Impact of Various Modes of Transportation,
in Emissions of Carbon Dioxide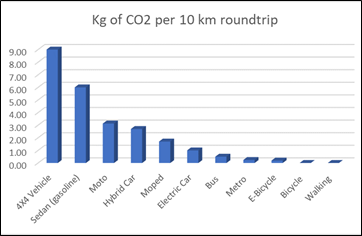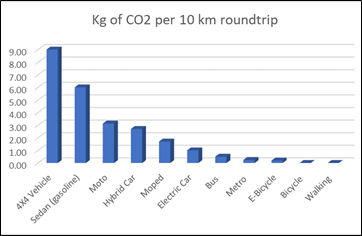 Source: Authors based on https://www.consumovehicular.cl/inicio#/
Improving sidewalks and public transport will help consolidate the modal shift. The massive investment in metros in China offers an illustrative example. In 2018 alone, these metros facilitated 71.7 million trips per day. Consider, for a moment, what would happen if these trips were to take place by car. In addition to the gridlock generated by the 55 million cars needed, the greenhouse gas emissions would total 300 million tons of CO2-equivalent per year or 3 billion tons over 10 years—the life of a typical car.
Along the same lines, a 10-kilometer round trip by car has 25 times the emissions of the same trip by metro and 12 times the emissions of a trip by bus. Clearly, improving public transport is necessary to decarbonize transport.
Potential of technology
Similarly, big data and digital connectivity options can make public transport more attractive and convenient for users. Intuitive use of technologies, new business models, and digital offerings can make travel more seamless and make data more open and available for use in the public's interest.
Among the intelligent transport systems common in good public transport are active fleet management, realtime passenger information through mobile phones, integrated ticketing, and payment platforms. Open data policies allow data sharing with application developers and the larger transport industry.
These applications can help users plan and pay for the trips on multiple modes and even with different operators, as is the case in cities like Vienna, Austria, and in international efforts like in the European Union. In Amsterdam and other cities of the Netherlands, the future of public transport will include concepts for integrated networks including more demand-driven services and seamless "door-to-door" travel in the most efficient vehicles.
Shared mobility, including e-hailing services, ride sharing, and micro-mobility solutions such as shared bikes or scooters, can help users navigate the "last-mile" problem. Metros and bus rapid transit (BRT) systems have fixed stations. This means passengers must access the station from their homes and reach their final destination. Walking is not always an option, particularly if distances are long or users have difficulty walking. Ride-sharing applications offer a service ideal for last-mile connectivity to high-capacity metro or BRT.
However, poor regulation of shared mobility services can lead to undesirable outcomes. Unregulated ridesharing services have aggravated congestion, lowered ridership in more efficient public transport, created unsafe conditions, and have even motivated users to buy cars, thus promoting motorization and increasing the carbon footprint of transport.
Improving the regulatory framework for ride-sharing applications so that they provide the proper and valuable service is also critical for decarbonization. These technologies and new business models will drive the development of Mobility as a Service (MaaS) into the future with bus- and rail-based public transport as the efficient backbone and shared mobility for last-mile connectivity.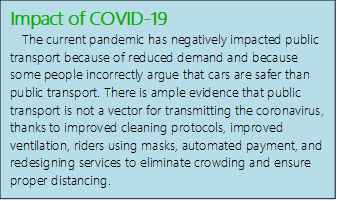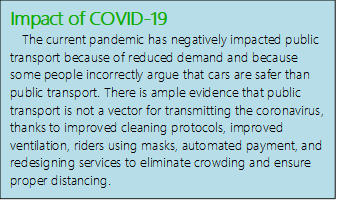 Furthermore, improving the frequency of service leads to lower occupancy and higher user satisfaction. Amidst the pandemic, cities such as Chicago, New York and Toronto have invested in "pop-up" dedicated bus lanes on existing streets to benefit buses and lower operating costs—much needed at a time of reduced ridership. Many cities such as Paris, Lisbon, Edinburgh, Milan, Bogotá, and Mexico City are also investing in "pop-up" bike-lanes and reallocating road space to improve walking conditions. Improving conditions for walking, biking, and public transport facilitates a shift toward these low-carbon modes.
We cannot accomplish the goal of decarbonizing our societies without policies and investments in sustainable transport.
Governments must act urgently to implement policies and measures that avoid or reduce unnecessary emissions, shift travel to sustainable modes, and improve the conditions for people to travel "door-to-door" using low-carbon modes.
The opportunities for sustainable transport and for decarbonization are perhaps greatest in the developing world, where cities continue to grow quickly and can manage motorization through investments in sustainable transport to help all their citizens access jobs and other opportunities.
The authors are part of the World Bank's Transport Global Practice. The findings, interpretations, and conclusions expressed in this article do not necessarily reflect the views of the Executive Directors of the World Bank or the governments they represent.
WGEA NEWS
NEWS BRIEFS FROM AROUND THE SAI WORLD